I walked last year, but didn't write a whole lot about it either before or after. 
This year I thought I'd do better.
I have three friends who have been diagnosed with MS.  I will call them B, K, and J. 
I've known B since she was six and I was eight.  She and my sister became friends back then and they've been there for each other through all the ups and downs a lifelong friendship might have.  I'm proud to count her among my friends as well. B has two teen-age kids, she is a kindergarten teacher, studies karate, keeps herself in better physical shape than most people I know, and always gets back up again, although she still occasionally screams like a girl. 
B was diagnosed with MS five years ago, right around the same time as another friend of mine.
K was the first person I met when I started temping at a place I ended up working for about 11 years total.  So I've known her...let's see...nearly fourteen years.  She's exactly the same age as my sister - birth date and everything - and she's got two beautiful daughters roughly the same age as my two kids.  She was diagnosed with MS around five years ago, while she was pregnant with her second daughter.  There are always bumps in the road, and MS is one, but hey - K is from RI - she's used to bad driving conditions.  She is unstoppable.
And third is J, who is the mother of Alex's oldest friend.  I don't know when J was diagnosed with MS - she's had it as long as we've known each other.  MS has taken a tougher toll on J, causing balance problems because of the numbness in her feet at times.  But she has always fought back, and continues to do so every single day.  After all, she's got a 7-year-old boy to keep up with.
Every one of these women is an inspiration to me.  Proof that you can never let anything, anything, keep you from moving forward, keep you from living your best life.  And they're all surrounded by supportive, loving families and friends as well.
But the thing is, MS has no cure, so my friends will be dealing with this for the rest of their lives.  And sure, there are things they can do, meds they can take, to make things easier, make things better...but still, no cure.
What, exactly, is MS?  Basically it's a disease that attacks the central nervous system, which includes the brain, the spinal cord, and your optic nerves.  So it has the potential to affect many parts of the body - the extremities (numbness, tingling, etc.), memory, and vision.  MS affects everyone differently, and is unpredictable in its progression.  For TONS of information about MS, you can go to the National MS Society's website. 
Now, here's the thing that I'm only doing because it's for people I care about, and, by extension, their families and friends as well.
I'm asking for help.
The Walk MS: 2010 is a fundraiser for research to find ways to prevent MS, cure MS, or, at the very least, improve the quality of life for all the people who currently have MS now.
I'm asking you to donate - even just a little bit - to this cause.
I know - believe me, I know very well - that times are difficult for a lot of us, and money is tight, and there are an awful lot of other ugly diseases that need funding for research as well. 
So I'm not asking for a lot.  Just whatever you can do.  Even if it's five dollars.  Or less.  The cost of a cup of coffee. 
But I'm also asking for you to help spread the word for me. 
And maybe if everyone who reads this post, and everyone who reads this post because YOU sent them here, and everyone who reads this post because the person who read YOUR post about this post posted a link to about it on THEIR blog or website and someone came here because of THAT...if you all donate even just a little tiny bit of money - the change you find beneath your couch cushions, for instance - then together we will be giving a huge donation to an extremely worthy cause.
Think about it this way - right now here in RI it is POURING rain outside.  Rivers in the state are reaching record high flood levels, schools have closed because of flooding or because they're being used as shelters for families who have had to evacuate their homes because of the flooding, and as I look out the window, I can see the rain running down my driveway to the street, where it merges with a river that runs along the side of the road.  My kids' school playground looks like a marsh.  And all this flooding is made possible by lots and lots of tiny little raindrops. 
So, to continue on with my analogy, won't you contribute a raindrop so we can offer a flood of support for MS research?
Yes, I'm dorky.  But I'm also sincere.
So here, specifically, is what I'm asking you to do.
1.  Donate! (CLICK HERE to get to my page on the National MS Society's website - the website accepts the four major credit cards.  If you don't have a credit card, you can send a check.  Please make all checks payable to: National MS Society Rhode Island Chapter
Mail to: National MS Society RI Chapter  205 Hallene Rd, Suite 209 Warwick, RI 02886
Please make sure to include Walk MS and my name (Jayne Maker) on the check!)
2.  Come back and comment on this post to let me know you've donated.  This will enter you in the Thank You! Giveaway I'm planning.
3.  Post a link on YOUR blog to send people here or to my donation page, and if you come back here and let me know that you've done that (include a link), you'll be entered a second time in my giveaway. 
4.  OR, you could post a link on Twitter, or on Facebook, or anywhere else you like to virtually hang out.  Just LET ME KNOW, so you can be entered for each link you provide.
5.  OR, if you're already participating in an MS Walk in your part of the world, just let me know that, too, and share a link to YOUR donation page.  Don't worry about donating to mine - all the money is going to the same cause, so you'll still be entered in the giveaway.
And to say thanks, I'll offer up a few things.
First, I'll put up a Thank You post after the Walk and list EVERYONE who donated and/or helped spread this email around the internet.  I'll include a link to your blog if you have one, but having a blog is not necessary, of course.
And I'll pick, randomly, a winner from everyone who donates and links to this post and who helps to spread the word and bring more raindrops into our flood.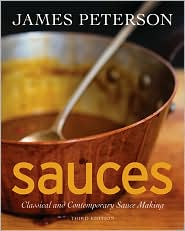 The winner of my random drawing will win EITHER a hardcover copy of James Paterson's fabulous, HUGE book, Sauces:  Classical and Contemporary Sauce Making.
OR
A Basket of Barefoot Kitchen Witch Goodies.  Some baked goods...maybe some jam...something from my Etsy store...something not yet in my Etsy store.  Don't really know what all will be in there yet.  But whatever it is, I think you'll be pleased.
The winner will be announced on Monday, April 19th.
~~~
So that's my post for today. 
I hope you'll participate in one way or another.
Thanks.